Popcorn Removal & Knockdown Texture Finish From Pompano Beach to West Palm Beach, FL for all of your Commercial or Residential Needs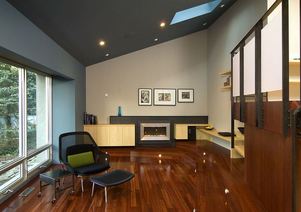 Applying a Knockdown Texture
---
As you should be aware, a knockdown texture is one of the types of drywall finishing styles. Today, this type of finishing style is becoming highly popular due to its ability to hide any flaw or repair on your walls. Comparatively, it offers a faster and easier way to fix your ceiling problems. More importantly, Knockdown Texture Finish Pompano Beach will give you a very subtle appearance when compared to your popcorn ceiling texture.
Why Knockdown Texture Finish Pompano Beach?
---
Ceilings are one of the places in your home, where the flaws will be clearly visible. In order to hide these flaws, traditionally, people used to apply a popcorn texture. But, popcorn ceiling texture has lost its audience today and is considered outdated by many of homeowners. The new trend is your knockdown texture. Be it a new drywall or an old repaired ceiling, a knockdown texture will not only hide the imperfections but also will create a more subtle appearance.
Above all, it will take you just about an hour to texture a typical ceiling, thereby being able to reduce labor costs (if you are hiring professionals). Finally, the cost, which is an important deciding factor, is also found to be lesser. For the materials, you will have to spend just $20.
A Step-by-Step Guide to Apply a Knockdown Texture:
---
The best thing about choosing to apply a knockdown texture for finishing drywall is that you will not go wrong anywhere in the process if you are able to follow the following simple steps.
Need for Professionals:
---
As you see, the whole process of applying a knockdown texture isn't easy and there are chances that you do it incorrectly. So, doing it yourself or having it done by a non-certified worker can lead to messy results. By being sprayed on evenly instead of manually, there is a lower possibility of a mistake being made. Our certified professionals of Knockdown Texture Finish Pompano Beach use a spray rig or hopper to apply the new texture, which will ensure a quicker finish and the best results. This choice is the most popular among contractors because it costs less to apply and will take less time to complete the job at your house or business. Contact us for a free quote today.
Here is a list of the services you can get at A1A Popcorn Ceiling Removal:
There are so many areas or regions where we offer these services with most of them being cities.
---
However, if you need any of these services, you need to contact us. The list below comprises the areas where we offer these services.